Boxarts

NL-PAL (Front)

Ø Wertungen

| | |
| --- | --- |
| | |

Infos
Genre:
Action Adventure
Entwickler:
Core Design Ltd.
Datenträger:
1 (CD)
Alternative Titel:

| | |
| --- | --- |
| | USA: |

| | |
| --- | --- |
| • | Tomb Raider: The Last Revelation |

Publisher:

| | |
| --- | --- |
| • | Capcom |
| • | Eidos Interactive |
| • | Eidos Interactive |

Release:

| | |
| --- | --- |
| • | 19. Juli 2000 |
| • | 22. November 1999 |
| • | 1999 |

Sprache (dt. Release):

| | |
| --- | --- |
| | Deutsch |

Sonstiges:

---

Spiele die ebenfalls dem "Tomb Raider"-Franchise angehören:

Beschreibung (Verpackungstext)
Deutsch
:
Eine uralte Legende, ein böser Geist und eine Warnung an die Zukunft:
"Er ist der Schatten vor der Sonne, der Auslöser aller Seuchen, sein Zorn frisst das ganze Land, und sein Hunger wird unersättlich sein."
Diese Prophezeiung handelt von Set, dem grausamen ägyptischen Rachegott - aber davon ahnt Lara Croft leider nichts, als sie ihn unwissentlich aus seinem uralten Grab in die Freiheit entläßt....
In diesem spannenden neuen Abenteuer geht es um nicht weniger als das Überleben der Menschheit!
Ein atemberaubendes Rennen gegen die Zeit fordert Lara's ganze Geschicklichkeit und ihren Verstand, um das drohende Armageddon aufzuhalten. Ihr abenteuerlicher Kreuzzug geht quer durch Ägypten. Teuflische Fallen müssen überwunden, geheimnisvolle Rätsel gelöst werden, verfolgt von einem mysteriösen, gandenlosen Gegner.
Wird Lara den unheilvollen Sturm, den sie selbst entfacht hat, aufhalten können?
Features:
Neue 3D-Welten in flüssiger Echtzeitgrafik und ein fesselnder Soundtrack bereiten den atmosphärischen Rahmen für diese neuste Episode! Zusätzliche Bewegungen, ein ausgefeiltes Inventarsystem und eine Vielzahl neuer Waffen bieten Lara mehr Möglichkeiten als je zuvor:


Kombinieren Sie Objekte, um die verschiedensten Hilfsmittel und Werkzeuge herzustellen.

Nutzen Sie Armbrust, Leuchtspurmunition, Feldstecher,... eben alles, was eine junge Frau braucht.

Komplett in Deutsch.
---
Englisch
:
He will be the shadow across the sun; the bringer of plagues, his wrath will consume all lands and will be ceaseless!"
Ancient Egyptian legend tells of how the evil God Set was outwitted and imprisoned in a secret tomb, and warns that he will one day return to seek vengance...
While exploring in Egypt, Lara Croft discovers the last tomb and unwittingly unleashes its ancient evil, fulfilling the prophecy that threatens to plunge mankind into eternal darkness! In a race against time, Lara must use all her wit and skill to re-imprison Set and save the world from Armageddon!
Pursued by a mysterious rival and deadly supernatural forces, Lara embarks on a journey of discovery across Egypt, where she must overcome the most ingenious puzzles and infernal traps ever devised, to face terrifying evil from beyond the grave...
With more twists and turns than an Egyptian labyrinth, this is a heart stopping action-adventure; a Tomb Raider that truly offers...
The Last Revelation
.
Features
Brand new inventory system - combine items to solve puzzles or improve your weapons.

New items include crossbow, laser-sight, binoculars and flashlight.

New moves - including pole climbing and rope swinging!

Enemies have Lara's agility - they will search for weapons, smash objects and match her moves!

Screenshots (Anzahl: 0)
Keine Screenshots vorhanden.
Zeitschriftenscans
neXt Level 1+2/00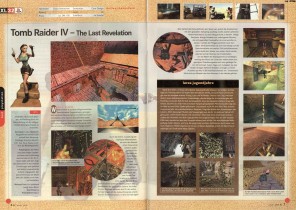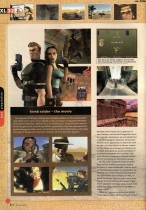 by jafa
---
---