Boxarts

EUR-PAL (Front)

Ø Wertungen

| | |
| --- | --- |
| | |

Infos
Genre:
Action Adventure
Entwickler:
Core Design Ltd.
Datenträger:
1 (CD)
Publisher:

| | |
| --- | --- |
| • | Eidos Interactive |
| • | Eidos Interactive |
| • | Eidos Interactive |

Release:

| | |
| --- | --- |
| • | 4. März 1999 |
| • | 21. November 1998 |
| • | 1998 |

Sprache (dt. Release):

| | |
| --- | --- |
| | Deutsch |

Sonstiges:

Das Spiel erschien in Deutschland nur in einer zensierten Fassung. Welche Änderungen vorgenommen wurden erfahrt ihr

hier

.

---

Spiele die ebenfalls dem "Tomb Raider"-Franchise angehören:

Beschreibung (Verpackungstext)
Deutsch
:
Lara Croft kehrt zurück mit ihrem bisher gewagtesten Abenteuer:
Tomb Raider III - Adventures of Lara Croft
. Begleiten Sie die Archäologin auf der Suche nach vier rätselhaften Artefakten. Erkunden Sie mit LAra mystische Stätten Indiens, unterirdische Gewölbe Londons und die geheime Militärbasis Area 51 in der Wüste Nevadas. Folgen Sie den Spuren der Artefakte ins ewige Eis der Antarktis und auf eine Insel im Südpazifik. Neue Waffen, Fahrzeuge und Moves helfen Lara, sich gegen finstere Gestalten zu wehren.
Features
Neue grafische Effekte inklusive dynamischer, farbiger Lichteffekte, realistischer Wasserwirkungen, Spiegelungen, Nebel und wechselnde Wetterbedingungen.

Mehrfache Auswahlmöglichkeiten bei der Reihenfolge der Abenteuer und individuelle Lösungswege durch das Spiel.

Neue Fahrzeuge, wie das Kajak, das Quad Bike, und der Unterwasserjet.

Neue Waffen, wie die Panzerfaust, die Desert Eagle und der Raketenwerfer.

Neue Moves einschließlich Ducken, Kriechen, Hangeln und einem Hochgeschwindigkeitsspurt, um brenzligen Situationen zu entkommen.

---
Englisch
:
Bigger, Badder and Better than Ever!
Join Lara in her biggest adventure to date in the phenomenal Tomb Raider series. Play through five huge worlds, in any order, on the quest for an ancient meteor rumored to have life-giving powers. New puzzles, environments, and even a few old enemies, like the infamous T-Rex await you. From the jungles of India to the icy wastes of Antarctica, across the rooftops of London and into the depths of Nevada's mysterious Area 51, Lara is ready for anything. Prepare to be amazed!
Features:
New Locations: Play in any order as you follow Lara through the South Pacific, Antarctica, Area 51, London and India.

New Moves and Vehicles: Speed dash, monkey swing, kayak, and quad bike help Lara out of tricky situations.

New Weapons and Enemies: Defend against byenas, monkeys, piranhas and the infamous T-Rex with new weapons like the Grenade Launcher, Desert Eagle and Rocket Launcher!

Hi-Res Graphics and Dual Shock Analog Control for the first time on the PlayStation.

"Just Stunning! The best one yet!" - PSM
"Lara Croft is our kind of action hero!" - Rolling Stone
Screenshots (Anzahl: 0)
Keine Screenshots vorhanden.
Zeitschriftenscans
Video Games 1/99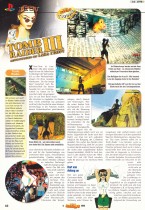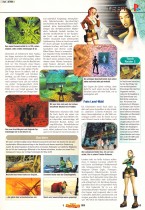 by Goemon
---
---
---