Boxarts

GER-PAL (Front)

Ø Wertungen

| | |
| --- | --- |
| | |

Infos
Genre:
Sport
Entwickler:
Neversoft Entertainment
Datenträger:
1 (CD)
Publisher:

| | |
| --- | --- |
| • | Success |
| • | Activision |
| • | Activision |

Release:

| | |
| --- | --- |
| • | 8. März 2001 |
| • | 20. September 2000 |
| • | 29. September 2000 |

Sprache (dt. Release):

| | |
| --- | --- |
| | Deutsch |

Sonstiges:

---

Spiele die ebenfalls dem "Tony Hawk"-Franchise angehören:

Beschreibung (Verpackungstext)
Deutsch
:
TONY HAWK IST ZURÜCK! MIT NEUER GRAFIK; NEUEN PROFIS UND NEUEN TRICKS... DIE LEGENDE ROLLT WEITER.
Skate als einer von 13 Profis oder erstelle deinen ganz persönlichen Skater.

Eigne dir die Moves und Tricks von Tony Hawk an, dem angesehensten Skateboard-Profi aller Zeiten.

Errichte deinen eigenen Traumpark in Echtzeit-3D mit dem Park-Editor und statte ihn mit Rampen, Funboxen, Rolls und vielen mehr aus.

FEATURES
:
NEBEN SKATE-LEGENDE TONY HAWK UND DEN NEUN WEITEREN PROFIS AUS DEM ERSTEN TEIL, STEHEN NUN DREI NEUE SKATER ZUR VERFÜGUNG.

WERTE DEINE AUSRÜSTUNG IM SKATESHOP AUF UND ERHÖHE DEINE STATISTIKPUNKTE MIT DEM GEWONNENEN PREISGELD.

TAUSCHE DEINE SELBST ERRICHTETEN SKATEPARKS ÜBER MEMORY CARD MIT DEINEN FREUNDEN.

VERSCHIEDENSTE MODI WIE KARRIERE ODER SKATE FOR FUN FÜR EINEN SPIELER ODER TRICK-TURNIER, GRAFFITI, LOSER UND GOTCHA FÜR ZWEI SPIELER SORGEN FÜR ABWECHSLUNG UND SPORTSPASS PUR!

DIE PROFIS SETZEN MIT HUNDERTEN VON NEUEN TRICKS NOCH EINEN DRAUF.

DER HIP-HOP & PUNK-SOUNDTRACK MIT RAGE AGAINST THE MACHINE, BAD RELIGION, NAUGHTY BY NATURE, PAPA ROACH UND VIELEN WEITEREN TOP-ACTS KRACHT VOLL REIN!
---
Englisch
:
HAWK'S BACK. WITH NEW TECHNOLOGY. NEW PROS. AND NEW TRICKS. THPS2, THE LEGEND RIDES ON.
Players can skate as one of 13 pros or create a character from scratch.

Players can ride with the skills of Tony Hawk, the most recognized skateboarding pro of all time.

Design your dream park in Real-Time 3D, using a variety of ramps, funboxes, fails and more.

FEATURES
:
SKATE AS LEGENDARY TONY HAWK OR ONE OF 12 OTHER PRO SKATERS.

CREATE YOUR OWN CUSTOM SKATERS.

MULTIPLE PLAY MODES INCLUDING 1-PLAYER CAREER AND FREE SKATE MODES AS WELL AS 2-PLAYER MODES SUCH AS TRICK ATTACK, GRAFFITI, TAG HORSE.

BUILD YOUR OWN CUSTOM SKATE PARKS WITH THE REAL-TIME 3D PARK EDITOR.

SIGNATURE PRO MOVES INCLUDING HUNDREDS OF NEW TRICKS.

INCLUDES HIP HOP & PUNK SOUNDTRACK FEATURING RAGE AGAINST THE MACHINE, NAUGHTY BY NATURE, PAPA ROACH AND MORE.

Screenshots (Anzahl: 0) und

-Video
Keine Screenshots vorhanden.

-Video vorhanden:
» Anzeigen «

Zeitschriftenscans
Video Games 10/00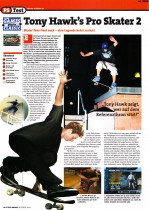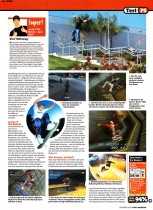 by Goemon
Kommentare (Anzahl: 2)
Gastkommentar schreiben
Name:

niche

Beiträge: 109

16.02.2010 um 22:24:07 Uhr
Jep Greevier Teil 1 war schon fett und Teil 2 hat dann alles verbessert was bei Teil 1 genervt hat. Leider hat sich dann irgendwann das Interesse an der Serie gelegt. Das fing aber schon ab Teil 3 an bei mir.

Name:

greevier

Beiträge: 6

11.02.2010 um 20:54:03 Uhr
Teil 1 war schon extrem cool, aber der hier ist einfach der beste Teil bis heute!!