Boxarts

GER-PAL (Front)

Ø Wertungen

| | |
| --- | --- |
| | |

Infos
Genre:
Beat 'em Up
Entwickler:
Capcom
Datenträger:
32 MBit (Modul)
Publisher:

| | |
| --- | --- |
| • | Capcom |
| • | Capcom |
| • | Nintendo |

Release:

| | |
| --- | --- |
| • | 25. Juni 1994 |
| • | 1994 |
| • | 1994 |

Sprache (dt. Release):

| | |
| --- | --- |
| | Englisch |

Sonstiges:

---

Spiele die ebenfalls dem "Street Fighter"-Franchise angehören:

Beschreibung (Verpackungstext)
Deutsch
:
Die ultimative Herausforderung!
Zwei Jahre lang war ihre Herrschaft unangefochten. Zwölf der besten Kämpfer aus aller Welt trafen zusammen, um ihre Kräfte zu messen. Doch nun ist es in der Zeit, einen Schritt zur Seite zu treten - denn jetzt sind sie da, die neuen Herausforderer!
Cammy, Dee Jay, T. Hawk und Fei Long haben sich das Recht erworben, im World Warrior-Turnier um den Titel zu kämpfen. Jeder einzelne von Ihnen beherrscht einen eigenen Kampfstil, aber alle haben ein gemeinsames Ziel: M. Bison von seinem Thron zu stoßen. Doch bis dahin ist es ein harter Weg, denn auch die alten Kämpfer haben dazugelernt. Wähle Deinen Champion und zeige, daß nur Du der Beste bist!
Mit 4 neuen Herausforderern und neuen Kampftechniken für alle bisherigen Street Fighter.

Brandneue Spielvarianten mit dem Gruppen- und Tournament-Modus oder dem Time Challenge.

Für 1 bis 2 Spieler gleichzeitig.

32 Megabit geballte Action!

---
Englisch
:
A New Challenge Awaits
For two years, they have reigned supreme. Twelve of the most gifted fighters from across the world have battled each other in the World Warrior tournament. But the time has come for them to step aside - Now is the time of the New Challengers!
Cammy, Dee Jay, T. Hawk and Fei Long have camed the right to enter the World Warrior Tournament. Each of them possesses a lethal combination of martial arts skills that they believe can destroy M. Bison. But can they survive the original Street Fighters and their new abilities? Only the true Street Fighters among you will find out!
Features 4 All new characters plus new moves and animations for the original Street Fighters!

Includes hot new modes including Group Battle, Tournament Battle and the Time Challenge.

For 1 or 2 Player simultaneous play.

32 Megs. The Largest Super NES game ever!

Screenshots (Anzahl: 21) und

-Video
---

-Video vorhanden:

» Anzeigen «
Zeitschriftenscans
---
---
---
Mega Fun 9/94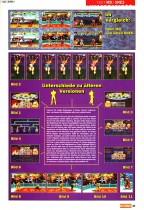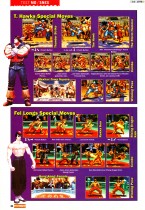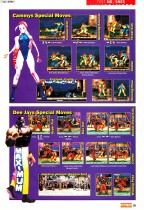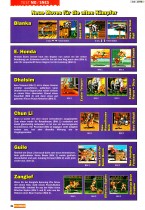 by Goemon
Printwerbung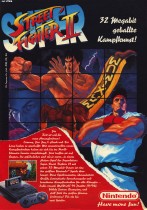 Kommentare (Anzahl: 13)
Gastkommentar schreiben
Name:

ShadowAngel

Beiträge: 818

08.03.2011 um 11:36:25 Uhr
Finde ich schon, ich kenne nur die Arcade- und die PC Version. Letztere ist technisch sehr enttäuschend und beide Spiele haben doch arge Balancingprobleme, da es doch große Stärkeunterschiede der Kämpfer gibt und einige der neuen Moves so gar keinen Spaß machen.
Solche unbalancierten Street Fighter Spiele haut Capcom ja immer wieder mal raus, etwa Street Fighter Ex plus Alpha auf der Playstation

Name:

NegCon

(Admin)

Beiträge: 1.224

08.03.2011 um 10:02:54 Uhr
Original von ShadowAngel
[...]Für mich Super Street Fighter II der beste Street Fighter II Teil.
War "
Super Street Fighter II Turbo
" dann schlechter als "Super Street Fighter II"? Verschlechtbesserungen?

Name:

ShadowAngel

Beiträge: 818

07.03.2011 um 22:08:43 Uhr
Auch das kam heute bei mir an, sogar mit Schachtel und Anleitung, was bei Nintendospielen von damals leider nur selten der Fall ist.
Zur Mega Drive Version habe ich mich gerade technisch ausgelassen. Die SNES Version ist meilenweit besser wenn es um Grafik und Sound geht - und nutzt nur ne 32 MBit Cartridge...
Spielerisch nehmen sich beide Spiele eigentlich nichts, da sind sie identisch. Damals wurde das Spiel kritisert, das es wenig neues bietet und es ja schon so viele Street Fighter geben würde. Die Kritik kann ich nachvollziehen, wobei es schon witzig ist, auf dem SNES den Weg von Street Fighter 2, Street Fighter 2 Turbo, Super Street Fighter 2 zu erleben. Spielerisch wurde es immer 'runder' und die Kämpfer waren immer besser ausbalanciert. Für mich Super Street Fighter II der beste Street Fighter II Teil.